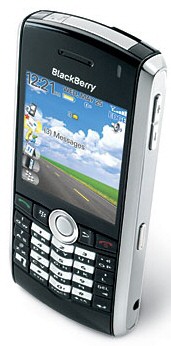 I really like Research in Motion's Blackberry system. I've used it for a few years and have generally been happy with it, especially since I use T-Mobile, which has extensive international service, meaning I can get emails and text messages all over the planet. My last Blackberry (an 8700G), sadly, stopped working last Sunday, right in the middle of a call. I took it in to a T-Mobile store and was told that it had moisture damage and…the warranty didn't cover moisture damage. It was never wet, but it seems I was just out of luck. (And pretty mad.) They offered me a good deal — with an insurance package — on the new Blackberry Pearl. I was reluctant, since it seemed too small to be useful, the kind of cell phone my cats might use (if cats could use mobile phones). I was wrong. It's a very cool smart phone and remarkably easy to use. I'm still finding out about its wide array of functions, including my first voice-dialed call this evening. I figured I would have to program it somehow to recognize my voice, or names, or whatever. Nope. I told it to call someone and it did.
I was reluctant to buy the Pearl because I liked the full keyboard on the 8700G. The smart typing on the smaller keyboard isn't quite as convenient, but it's not bad. And the fact that I have all that power (including a 1.3 Megapixel camera) in such a tiny package is great.
So far, the Blackberry Pearl is great. I recommend it highly.
Oh, and it goes with my black video iPod: