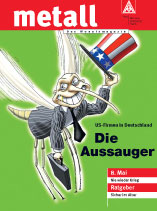 Davids Medienkritik has a fine expos��?���© of anti-Americanism in Germany and its remarkable similarities with an earlier form of scapegoating in Germany.
It does seem to be a trend. As the Süddeutsche Zeitung noted in March, Franz Müntefering, chairman of the Social Democratic Party, attacked entrepreneurs as "locusts," which German historian Michael Wolffson noted refers to "a plague that must be exterminated." Wolffsohn compared the remarks to the language of the Nazis: "Today one refers to this 'plague' as 'locusts,' back then as 'rats' or "Jewish pigs.'"
Hat tip to Nathalie Vogel for the remarks of Müntefering.
Further hat tip: David Jenniches has corrected my earlier posting (see comments), as I had taken some of the remarks in the article as Müntefering's words, not as the extrapolation from them by Wolffsohn. Thanks for the correction, David, and apologies for my mistake.