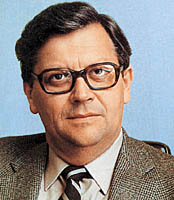 David Lange, R.I.P.
David Lange has died. As prime minister of New Zealand, he changed much of the socialist left and, in the process, even more of the world, starting with New Zealand but extending much further. With Roger Douglas as finance minister he promoted privatization, elimination of subsidies, free trade, and much more. New Zealand, which had been a sleepy and relatively impoverished country, prospered after the heavy shackles of state controls were removed. (I recall relatives years ago describing the incredibly old cars and appliances people were forced to keep running, because tariffs were so staggeringly high.)
Additional Links: David Lange, Roger Douglas.
NOTE: If you want to know why the New Zealand experience is so important, consider two cases in which New Zealand has set an example for the world:
New Zealand has effectively eliminated agricultural subsidies and protection and shown that the agricultural sector can flourish when producing for the market, rather than for the state;
New Zealand has, with Iceland, shown the way to averting the tragedy of the commons in offshore fisheries by creating and protecting transferable property rights in the fisheries.