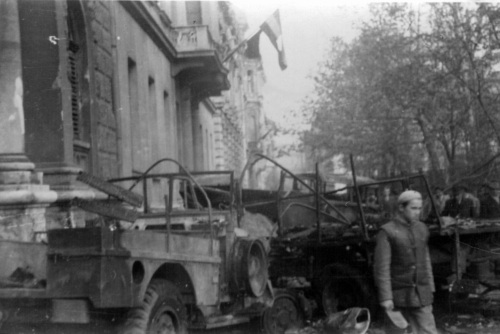 (Budapest, 1956: Note the hole in the flag)
I saw the movie Freedom's Fury, about the 1956 Hungarian Revolution, this evening in the enormous Uptown Theater in Washington, D.C. at an event organized by the Hungarian Embassy. I recommend the film, although I found the choice of material and organization worthy of comment.
The film is organized around the story of the Olympics match between the Hungarian and the Soviet Waterpolo teams in Australia in 1956. That contest provides an interesting way to organize the material and served as the occasion for staging and filming a reunion of the surviving Hungarian team members and four of the surviving Soviet team members, a reunion that displayed reconciliation and friendship. When I asked the directors why they chose water polo to organize the story, they said that A) one of the directors was a water polo player in college, and B) organizing it in that way allowed a chance of reconciliation. Despite my hatred of what the Soviets (and Communist traitors to their country such as Janos Kadar) did, I found the reconciliatory images touching and an interesting way to close a terrible story. As one of the Hungarian water polo players points out, the Soviet team members were victims of communism, as well.
On the other hand, the film errs in stating that the 1956 revolution was the first uprising against Communist tyranny behind the Iron Curtain, a statement that ignores the 1953 uprisings in East Germany. Moreover, Freedom's Fury offered a rather skimpy treatment of the political events of 1956. While the evil Kadar and the brave Imre Nagy are mentioned, other players are ignored, including such traitors as Andras Hegedüs,* who signed the invitation to the Soviets to invade, and such heroes as Istvan Bibo.
Besides the sadness I felt at hearing the story again, the images and the sound of the Hungarian language caused me to feel significant nostalgia for Budapest and the Hungarians. I have to get back there sometime soon. (But Beirut and Tehran are on the menu for the next month. So maybe next year.)
*(I met Hegedüs before the Yugoslav wars in Dubrovnik, Yugoslavia at a meeting of eastern European sociologists. The conversations were interesting. In the years since he had worked to make amends for his criminal culpability in the events of 1956; as he told me, he had gone to Moscow to study sociology after the uprising because "we had forgotten about legitimacy" and he thought that the study of sociology would correct that oversight. At one of our seminars on economic sociology, I suggested to him, as the turnover of Hong Kong to China was then being discussed, that Hungary would benefit by allowing Hong Kong entrepreneurs to move to Hungary, to which he responded that "Hungary would not be Hungary.")