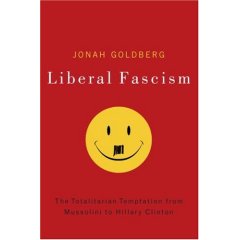 A friend just sent me a rather shocked link to Amazon.com's page for Jonah Goldberg's new book with the utterly crazy title: "Liberal Fascism: The Totalitarian Temptation from Hegel to Whole Foods." The original subtitle was "The Totalitarian Temptation from Mussolini to Hillary Clinton." That one was unhinged enough, but the new title is simply deranged.
Now, I should admit that I don't shop at Whole Foods, not because I think it's "fascist," but because I don't like cooking, so I pay other people to prepare my food. (I'm a regular at the "Health Bar" around the corner from my place and I get 15% off the meals; that and my microwave do me fine.) If I liked to cook and if I had more time, I think I just might shop at Whole Foods, since the food's really good. (It's a bit pricey, but the quality is superb.) And I'm not afraid that the eggplant will be "totalitarian." I've met John Mackey a number of times and I know for a fact that he's not a "fascist," nor does he distribute "fascist food."
I know that authors don't always come up with the titles or covers of their books, but they do get to veto them. This one is so utterly stupid that I hope that Goldberg is ashamed to show his face in public.