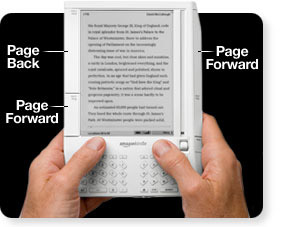 I'm quite happy with my Kindle electronic book from Amazon.com. On my long trip to China, I managed to cut down on the number of books I usually carry with myself by taking it. I had the full text of Locke's Two Treatises of Government, the writings of James Madison, The Federalist Papers, Hume's A Treatise of Human Nature, and other works for reference (they were helpful for my lectures) and I got through a good bit of Thucydides' History of the Peloponnesian War, some poetry, and (I'm a little ashamed to admit) a couple of trashy novels (I had a lot of the plane and train travel within China, and long flights to and from).
I was not able to access my newspaper subscriptions while in China (I get the Washington Post, the New York Times, and the Frankfurter Allgemeine Zeitung), but I managed to access them as soon as I touched down in the US and read them in the long line at immigration.
I'd say that the device is great for books you want to read, but not necessarily to study. It's possible to make notes, but not as easy as writing in the margin of a corporeal book. If you want to study a book, you definitely need a corporeal book, but an electronic copy won't hurt.
P.S. It's not backlit, which is why the battery lasts a long time (but should be regularly recharged), so you'll definitely want to buy a reading light with it. This one is quite good, uses LEDs, and the batteries will last for a loooonnnng time.