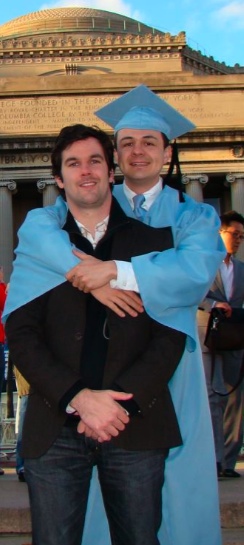 I'm very proud of my friend Constantino Diaz-Duran, pictured above with his partner Chris on the occasion of his graduation from Columbia University. I met Constantino at a lecture in Guatemala City and we later corresponded a few times by email. When he called me in fear for his life after credible death threats made after publication of his editorials in favor of free trade in Siglio Veintiuno, I helped arrange an internship, after failing to get him help from various embassies. It turned out that the U.S. embassy, led by the hateful and despicable Ambassador Prudence Bushnell, had circulated a memorandum to the State Department and other Embassies attacking Constantino and the university he was attending, the Universidad Francisco Marroquin, in quite strong terms. (The memo, which I have read but cannot at the moment find on the web, was leaked by a member of the diplomatic corps; the story of the memo and Bushnell's war against the Guatemalan libertarians was later covered in the Wall Street Journal by Mary Anastasia O'Grady.)
We got Constantino to the Cato Institute for an internship, where he helped to improve ElCato.org and was involved in the first bi-lingual English/Spanish edition of the American Declaration of Independence and the U.S. Constitution. He was later a Charles G. Koch Summer Fellow, where he met his now-partner Chris. (After his fellowship, Chris worked at the Cato Institute in the media department). Constantino and Chris moved to New York, where Chris now works at ABC News and Constantino has been studying at Columbia. Constantino hopes to go on to law school.
Oh, and Ms. Bushnell, Constantino did finally receive asylum in the United States.