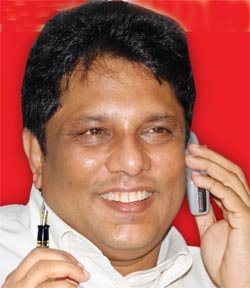 I had read about the murder of the courageous Sri Lankan journalist Lasantha Wickramatunga, whose paper (according to BBC reporter Alastair Lawson)
was closed down because it mockingly avoided censorship regulations by reporting the opposite of what had really happened.

At that time the army was in retreat and the northern Jaffna peninsula was close to falling to the Tigers. The paper avoided the censor by reporting that Jaffna was safe in the government's hands and that the army was on the offensive.
That is not only brave; it is brilliant.
Until alerted and encouraged by a friend, I had not read his last editorial, which he wrote to be published after his murder. It is obviously the work of a great man, who could honestly state,
"As for me, I have the satisfaction of knowing that I walked tall and bowed to no man."
I recommend reading the whole editorial from his newspaper, The Sunday Leader: "And then they came for me."
Hat Tip: Jude Blanchette