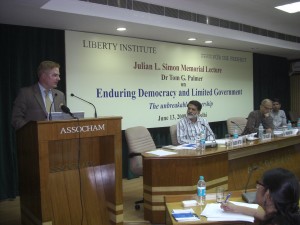 My lecture in New Delhi, with commentators Barun Mitra, Swaminathan S. Aiyar, and Parth Shah
I had some really great meetings with some of Atlas's partners in India. In addition to having the honor of giving the 2009 Julian Simon Memorial Lecture (on "Enduring Democracy and Limited Government," to be published later), which was hosted by the Liberty Institute and the regional office of the Friedrich-Naumann Stiftung, I had really fine meetings with the leadership of the Liberty Institute and the Centre for Civil Society, facilitated by my colleague Jude Blanchette, who came in from Beijing. CCS are committed to moving forward with the Azadi.me project, which is currently under construction and set for a full launch on July 22. Azadi.me will present the ideas and policies of freedom in the Hindi language, with various Indian regional languages to follow, and will work together with the other platforms established by the Atlas Global Initiative for Free Trade, Peace, and Prosperity in Arabic, Russian, Chinese, and other languages.
Jude Blanchette has initiated a discussion among the Chinese and Indian classical liberals about more cooperation to promote freedom and peace in the region — an initiative with great potential. Various Chinese and Indian scholars have already responded favorably.
During our meeting at the CCS office, we also discussed a free trade campaign for India, which suffers from both barriers to trade with non-Indians and barriers to trade with other Indians. They will launch an Indian free trade initiative aimed at both kinds of destructive barriers, in coordination with the international effort of the FreedomToTrade.org campaign. During the meeting, we talked by speaker phone to Mirsulzhan Namazaliev in Central Asia, at the newly formed Central Asian Free Market Institute, about coordinating with their soon-to-be-launched free trade campaign.
Due to the problems between the governments of the two countries, what should be a short flight from India to Pakistan is in fact two medium-length flights to and from Dubai, with a four hour layover in a giant shopping mall in between.
I'll try to post a bit more often, as I meet and work with friends of liberty in Pakistan and Afghanistan.
Bye for now!
Tom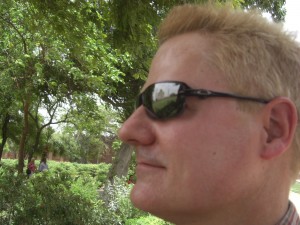 Reflecting on the Beauty of the Taj Mahal