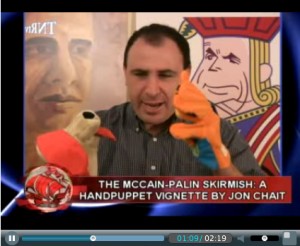 Michael Moynihan of Reason has been doing some super sleuthing. He wants to know, "Just what makes something humorous?" And now he has the answer: Jonathan Chait, to whom he has awarded the prestigious title of "The Left's Own Topo Gigo." If you're not chortling and guffawing over Chait's John McCain hand puppet telling the Sarah Palin hand puppet that he picked her as his running mate because "I was a sad, desperate old man trapped in a loveless marriage — I saw you and I saw a second chance," then you must be like me: stupid and humorless, in the words of Matthew Yglesias, one of the smartest and funniest guys around. So smart and so funny he told my friend Veronique de Rugy to SHUT UP! about tax policy because she's …. get this!!! … FRENCH. Ha ha! FRENCH!!!! Oh, how we laughed!
But you know, when you keep on having to say, "But I'm funny. Really!," you ought to wonder whether maybe you're….well, you're just not. That you're crude and boorish and that you really ought to apologize to the person you mocked because of her name and nationality. Or at least that your "humor" is not really suitable for grown-up conversation. (And yes, I do know that they were trying for some sort of "irony," but they failed utterly [for one thing, saying racism is "unAmerican" and saying Jews and Catholics are "unAmerican" really are different uses of the term].) Moreover, undeniably hidden behind the protestations of humor was a very clear message to someone who disagreed about what the essence of America is [hint: not using the power to tax maliciously to punish people], and that message is:
SHUT THE HELL UP AND GET OUT OF OUR COUNTRY!
Thanks, Jonathan and Matthew, for raising the tone of policy discourse so. You're great guys. Class acts. Really.