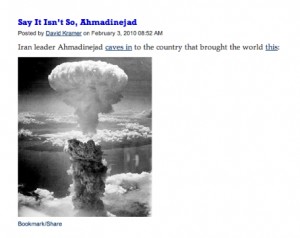 (Click on the image to enlarge it to a more readable size.)
The crackpots around Lew Rockwell are not content with trying to get countries to eschew or eliminate nuclear weaponry. No. That would be rational. Instead, their preference (link to post by David Kramer above) is for countries ruled by wacky tyrants actually to acquire nuclear weaponry with which they can threaten all of their neighbors. The criterion for properly acquiring nuclear weapons, according to such people? Being a perceived enemy of the government of the United States of America, the lineal descendant of the one that defeated the Confederate States of America. David Kramer is not someone I know, but I feel that might be a blessing.
Confusion Or Hate?
What the crazies don't understand is that being horrified at or opposed to the possession or use of such weapons by one state, or condemning its use 65 years ago, does not entail that one should endorse their acquisition (or use) today. The wacko response they will offer in defense of their craziness? "Iran hasn't actually used any nuclear weapons (yet), but the US has, so it's ok for Iran to acquire them and to threaten other countries with them." (It's the same response to people who point out the ugliness of Rockwell's publication and promotion of work by such advocates of murder as the racist/segregationist Sam Francis and the advocate of stoning gay people to death [and prophet of the Y2K hysteria some years back] Gary North, one of their top writers; they haven't actually lynched or stoned anyone, whereas Senator XYZ has voted for stealing or bombing, and so what's worse than promoting racists and advocates of stoning gay people is to live in the same city as Senator XYZ or to talk with him or her, unless you're a Texas congressman.)
That web posting is the face of evil. But it comes as no surprise when you consider the source.
Note: In the event the post is dropped, as happens often there when someone notices them, the two links in the LewRockwell.com post were to this and this.