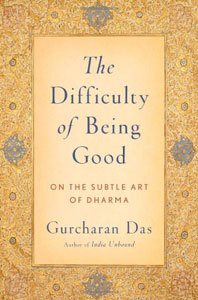 I took my time to read this book, but it was worth it. Gurcharan Das's The Difficulty of Being Good: On the Subtle Art of Dharma is a worthy companion to a long journey, or something to be read like one sips a cup of hot tea on a very cold day. It's a meditation on living a good life, organized around the virtues and vices exhibited by the characters in the great Indian epic The Mahabharata (here's a shortened prose version from R. K. Narayan). Das weaves together examples from the text, experiences from his life in business (he was CEO of Procter & Gamble India), and insights and comparisons from his wide reading in moral philosophy to form a book that is favorably comparable to the Meditations of Marcus Aurelius.
A dominant theme of the book is that "dharma is subtle," i.e., doing the right thing is not just a matter of having a good will; rather, it's often hard to know what is the right thing to do. (Das is widely read and his work introduced me to some ideas and books of which I was previously ignorant. The Difficulty of Being Good would have benefited from a comparison of the idea of dharma with Aristotle's discussion of practical judgement, or phronesis; perhaps such a comparison would provide a good topic for a student working in comparative moral philosophy.)
In addition to being a subtle writer and thinker on matters of living well, Das is an articulate and outspoken classical liberal (libertarian) who writes a column for The Times of India. He is the chairman of the Centre for Civil Society. Here is his speech April 8, 2011 before a gigantic crowd in Tahrir Square, Egypt, the most rousing speech to a mass audience on the rule of law that I've ever seen.