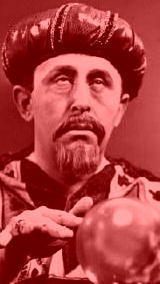 "The myth that Russia is sliding back into authoritarian — or even totalitarian — rule is not only ridiculously overstated: it is downright pernicious."
–Justin Raimondo
Just how much vodka have they been drinking at antiwar.com to run such a bizarre whitewash of President Putin's tendency toward authoritarianism? I'm all for trying to help the Russian government steer toward more openness and limited government (and eliminating Russia's irrational and destructive tax system and replacing it with a flat tax was certainly a step), but why would anyone be so eager to steer them toward greater authoritarianism and socialism?
And the mooning over Putin (called "Putin, the Patriot" by Raimondo last year) is remarkably over the top. How much moonier could one get than this?
I shall not soon forget the look on the Russian leader's face as he watched George W. Bush cavort and grin his way through the Moscow trip: it spoke of a supremely adult forbearance, of a man whose inherent dignity and focus allowed him to rise above everyday trivialities and concentrate on a single objective.
Raimondo's columns on Vladimir Putin read like the jacket copy on a dimestore bodice ripper.
But there's got to be more to the eagerness to support Putin than the steely eyes and the "inherent dignity." Could it be that Raimondo and his crowd yearn for the days when the evil American empire faced the Soviet Union? It was, after all, Raimondo's steely eyed and inherently dignified hero who stated that the breakup of the Soviet Union was "the greatest geopolitical catastrophe of the last century."
P.S. It's worth remembering that this swooning over Putin comes from a man who has admitted that he deliberately lied to his readers about a phony document allegedly from the U.S. Ambassador to Kyrgyzstan that he (Raimondo) knew to be fraudulent before he presented it as authentic.
P.P.S. It's also interesting to contrast Raimondo's eagerness to shower praise on President Putin (including the irrational and unjust war against Chechnya) with the courage of the Russian libertarians who have spoken out about press intimidation, the abolition of local elections, the undermining of the judiciary, the theft of Yukos and the persecution of Khodorkovsky, the war in Chechnya, the gross intervention into Ukraine's elections and the attempt to tether Ukraine to Russia by force, the terrible policies of the last two years that have set Russia "on the road to the Third World," and more.