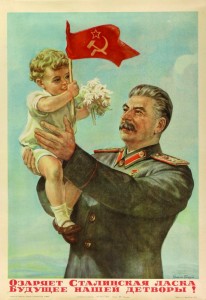 "Stalin's new status in Russia," BBC:
"…there is a much broader campaign to rehabilitate Stalin and it seems to be coming from the highest levels of government.

The primary evidence comes in the form of a new manual for history teachers in the country's schools, which says Stalin acted "entirely rationally".

"[The initiative] came from the very top," says the editor of the manual, historian Alexander Danilov.
"I believe it was the idea of former president, now prime minister, Vladimir Putin.

"It fits completely with the political course we have had for the last eight years, which is dedicated to the unity of society."
Love affairs with Russia's authoritarian past are not limited to people in Russia, unfortunately.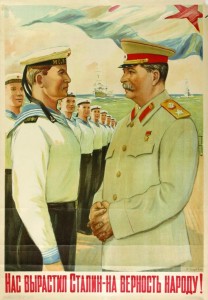 "Stalin raised us to be faithful to the Soviet people!"
Caption to top poster: "Stalin's care brightens the future of our children!"