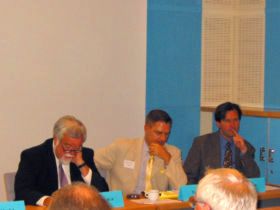 Robert F. Rich, Tom G. Palmer und Stephan Fuchs in
Munich speaking on "The Economics of Knowledge"
A very fine organization, the Council on Public Policy, has released its latest newsletter (in English and in German), which includes a few items involving yours truly (including the conference on "The Economics of Knowledge" in which I participated last July and some discussion of Olaf Gersemann's Cowboy Capitalism). The Council is directed by an outstanding sociologist and political scientist (or political sociologist), Michael ZÃ?Â??Ã?Â?Ã?¶ller.