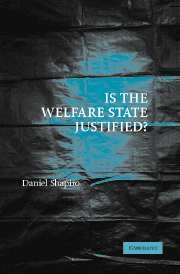 I had the pleasure of interviewing Daniel Shapiro, an old friend and author of a very important new book, at an Institute for Humane Studies function on Friday. The book is Is the Welfare State Justified? and it's just been published by Cambridge University Press.
It's the only sustained response of its kind to political philosophers and theorists who believe that the welfare state is justified because they uphold egalitarianism, or "prioritarianism" (that is, that priority should be given to the worst off among us), or "positive rights," or "communitarianism." Shapiro does not take issue with those values or commitments. Instead, he argues that the welfare state does not serve those principles well and that market-based institutions would do a better job of providing the benefits that are merely assumed to be provided by the welfare state. Shapiro's book is very important and very well done. As a part of his case, he makes two very, very shocking claims (shocking among political philosophers, at least): 1) institutions matter, and not only aspirations; 2) facts matter.
This is a book worth buying.
(Slight caveat: it's occasionally a bit challenging and not the most riveting of works, not because of the complexity of the argument, but because he's very thorough; there are parts that deserve sustained and focused attention and parts that can be read a bit more lightly.)