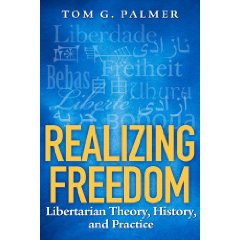 Realizing Freedom: Libertarian Theory, History, and Practice, by yours truly…at a whopping 34% discount off of the cover price.
The official release date is June 23.
(Note: the Amazon description says "300 pages," but it ended up at 518. But fear not…that's for 33 separate essays, plus the introduction.)
NOTE: It was brought to my attention that Laissez Faire Books will also carry this title. I am a big fan and was remiss in not promoting their good work. If you're in the market for books, you really ought to visit their site.